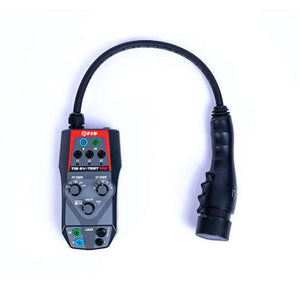 TIS EVSE Adaptor
TISEV-TEST100
£42956

£429.56

excludes VAT @ 20%
1 in stock.
---
---
TIS EVSE Adaptor
EVSE Testing Adapter for use with the TIS MFTPRO and other capable multifunction testers.  
The TIS EV-TEST100 allows you to simulate a car plugged in to your EVSE charging station to test it is working correctly.   
You can also simulate an Earth Fault and Electrical Fault to make sure the charging system recognises these faults and immediately shuts down.   
Using the TIS MFTPRO together with the TIS EV-TEST100 you can run a full Auto Sequence test on an EV
charging station from start to finish. The TIS EV-TEST100 will also work with other capable multifunction testers.  
Full Auto Sequence Test using the TIS MFTPRO.  
Tests Mode 2 and Mode 3 Charging Stations. 
Fault Simulation (PE and E) 
Phase Presence Indication. 
Type 2 Connection 
IP40 Protection. 
Data Saving using the TIS MFTPRO. 
Data Export using the Top View Software. 
External Load - Fused Max 10A/230V. 
Vehicle Status Simulation (CP) A,B,C,and D. 
Single Phase and Three Phase Charging Stations.  
Ventilated or Non-Ventilated Charging Stations. 
Cable Coding (PP) Open, 13A, 20A,32A and 63A. 
Standards, IEC/EN61010-1, IEC/EN61851-1 and IEC/EN60364-7-722. 
• Supplied in a Hard Carry Case with Link Cable for the TIS MFTPRO. 
• 2 Year Warranty. 
For more information please click below.
---
We Also Recommend