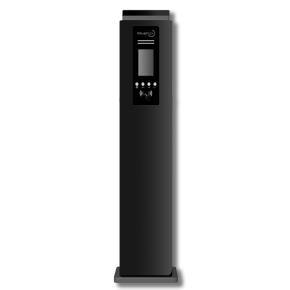 Project EV 7kW Dual Outlet Floor Mounted Electric Car EV Charger
EVA-07D-S-RFI
£1,11416

£1,114.16

excludes VAT @ 20%
0 in stock.
Add to cart to be put on back order.
---
---

Project EV 7kW Dual Outlet Floor Mounted Electric Car Charger
The EVA-07D-SE-RFID is a single-phase dual AC charging unit. 
This unit does not require an earth spike for installation, meaning no  
costly groundworks! The dual gun charger is perfect for both domestic  
and commercial charging and offers a generous five-year warranty.  
This charger also has time shifting capabilities giving you the  
opportunity to save £100's per year, a cable lock system for  
added security, free mobile monitoring app and a dynamic load  
balancing system. 
The unit comes with one RFID card as standard, with additional 
RFID cards (EV-RFID) available for purchase. Optional ground mounts 
(EV-GMEVA-D-2) & optional protection posts (EV-POST2) are also 
available to buy, keeping the charger safe from any unwanted accidents.  
Dimensions H-1635mm W-320mm D-175mm  
For more information please click below.
---
We Also Recommend